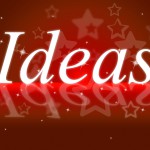 "To be successful we must live from our imaginations, not from our memories." ~ Steven Covey
Can you relate to any of these thoughts and feelings?  You feel stuck in a rut. Trapped!  You have had enough of being where you are but just don't seem to be able to break out of it.
You feel annoyed, frustrated and helpless and think of others who seem happier and more fulfilled in their lives.  There is an underlying fear,  "I will never get out of this, and maybe I don't have what it takes!"   Feelings of anxiety and panic abound at not being able to see a different future. 
for the Stakeholder Analysis Template
As some of you would know, being stuck in a rut without any sense of verve, excitement or creativity, sucks!  And it is hard to know where to start when you are in it.  But it doesn't have to be this way.  There are things we can do to re-connect with our creative energies and catapult us out of the rut we are in.
Read more at  – http://www.aha-now.com/unleash-creativity-in-work/

As a leadership and career coach, team facilitator and speaker, I love working with individuals, teams and organisations to help them grow and progress with their goals and vision.  
Image courtesy of Stuart Miles at FreeDigitalPhotos.net