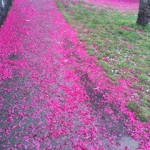 I was heading home after a busy Friday. Seeing the traffic ahead, I decided to turn right into a street I very rarely use.
And boy, was I glad I did!
Barely had I gone down a few hundred meters, when I got welcomed by these wonderful, bright pink, cherry trees, many in full bloom.
Just last week I had written a post on the unexpected little joys of life.
The bigger two trees in the corner were full of tuis (NZ bird) 'tuiting' away, absolutely lost in the moment and in ecstatic delight of the honey nectar. It is as if, amongst the branches and the blooms, they were having a music and rhythm festival all of their own!
One of the neighbours, similarly enthralled, along with the cat came outside and we started chatting.
We stood there, very much in the moment, admiring the magical, colourful bounty and the blessings of nature.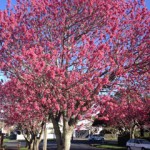 Seasons and change
Here in New Zealand, our Spring season has just begun. It really is a delight seeing all the lovely magnolias, cherry blossoms, sweet-smelling Jasmine, daffodils, early cheers amongst others, appear, after the dull winter.
It got me thinking – we welcome the change of seasons but are we as welcoming of the inevitable changes in our lives?
Needless to say, our work and personal lives unlike nature, don't have as predictable a transition as the seasons do.
Our response to change
I wondered how we could be more welcoming of the different phases of our lives?
Do we even pause, catch our breath or with awe and gratitude invite the changes and what we are transitioning into?
Or do we get gripped by our 'little self thinking' of fear and anxiety, focusing on the glass half full?
When we are unable to accept change, we suffer the most especially change which may have been unexpected or forced on us.
Reminder
Seeing these beautiful cherry trees was a great reminder of the transient nature of life with all its challenges and beauty.
Let us remember to appreciate the joyful moment and also trust that the more challenging times, like the seasons will not only pass on but that something new, different and organically sound can also be unfolding.
I would welcome your thoughts on this.
I work as a business psychologist and leadership coach. www.jasbindarsingh.com
You can get my brief  7 Actions to Get Your Mojo Back Guide here