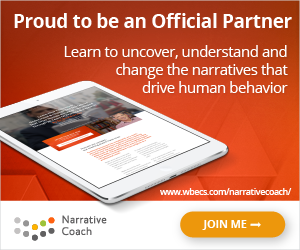 If you are a coach or have some interest in coaching – you will not want to miss out on this!
Next week, Dr. David Drake is offering 2 final immersion trainings on Narrative Coaching at no cost and there are still some seats available.
To register, simply click one of the links below and choose the session that suits your schedule:
March 12th, 2019 – 10am ET
March 13th, 2019 – 6pm EST
In the workshop, David shares his insights into a holistic, experiential coaching process that helps you to uncover, understand and change what drives human behavior. You will see how to work with your clients in a deeper, more meaningful way and how to create change that lasts far beyond your coaching session.
"One of the best coaching webinars that I have ever attended. And I have been a coach for over fifteen years now. Unbelievable levels of generosity and meaningful sharing. Thank you!" – Siddharth N.
"I feel I can breath more easily already, a breath of fresh air not to focus on goals first when clients are already in overwhelm. So helpful, thank you!" – Kizzy H.
Excited to dive in? I look forward to hearing your thoughts afterward!