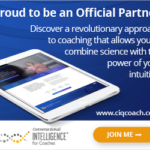 Have you heard about C-IQ yet?
C-IQ, or Conversational Intelligence®, is a revolutionary coaching methodology developed by Judith E. Glaser that allows you to leverage the power of neuroscience to create rapid, transformational shifts with your clients.
Soon, Judith will be opening the doors to her yearly LIVE 90-minute Immersion Experience on this powerful body of work — and I wanted to be sure you don't miss out!
Judith E. Glaser is one of the most innovative and sought-after executive coaches of our time, the world's leading authority on Conversational Intelligence®, WE-centric Leadership, and Neuro-Innovation and best-selling author of 7 business books.
Conversational Intelligence® is based on her profound knowledge of neuroscience and 40 years of research and experience in the coaching industry, working with some of the biggest and most prestigious companies in the world.
It would not be an exaggeration to say that in the past 3 years Judith E. Glaser and WBECS have turned this unique body of work into a global movement. That's because C-IQ is not just changing lives. It's changing businesses and company cultures and is literally transforming the way we interact as human beings.
I'd love to invite you to join this powerful NO COST LIVE workshop for yourself to discover how you too can start using neuroscience principles to revolutionize the way you communicate with your clients.
During the LIVE 90-minute no cost Immersion Experience you will discover:
The neurochemistry behind conversations which enables you and your clients to quickly establish an environment of trust and connection – with individuals, teams and entire organizations.
Profound frameworks and questions to activate the parts of the brain that trigger high engagement, trust and innovation – including specific tools and methodologies to share with your clients so they can create sustaining and healthy conversations at work and in life.
The Epigenetics of Conversations and how we transcribe new patterns and neuropathways in our brains through frameworks you can use right away to create a healthy culture through conversations for yourself and your clients.
The exact tools Judith used to take her client Clairol from being a $250 millioncompany to selling to P&G for $4.95 billion within less than a decade.
The Conversational Dashboard that allows you to identify conversation styles of your clients and take them from resisting and skeptical to high levels of trust and co-creation.
The Up- and Downregulating Framework that helps you as a coach to regulate your clients' (and your own) own bio-reactions during even the most challenging leadership situations.
The 3 levels of conversations – What they are. Why they matter. And how to coach your clients to accessing the most impactful and effective communication as a leader by moving to level 3 conversations.
How to shift leaders with a strong point of view away from "being addicted to being right" and arguing back and forth to avoid and resolve conflict by asking Discovery and Innovation questions.
How to become part of a global community of coaches co-creating a movement to revolutionize the way we communicate, connect and interact as human beings.
I am convinced that this Immersion Experience will benefit your coaching practice tremendously!
For now, I'd love to invite you to take a look at the page below to find out what your fellow coaches and C-IQ Program graduates have to say about how Conversational Intelligence® has impacted their professional as well as personal lives:
Go here to get all the details and pre-register for the Live Immersion Experience .
Will you join me?
I look forward to attending the session with you.
Jasbindar Singh