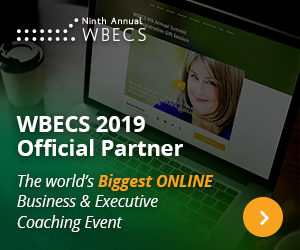 The WBECS Pre-Summit officially opens its doors today… And they're kicking off the event with a selection of speakers that you will love.
Check out the Pre-Summit speaker line up and grab yourself a seat before they are gone.
Would recommend registering for their annual no-cost, and highly acclaimed Pre-Summit to learn from 40+ of the industry's top experts. Reserve your seat for the free speaker sessions today.
Their Summit offers pure value!
You can expect powerful coaching techniques and the latest developments in our industry. You'll discover innovative tools and wisdom covering a broad variety of coaching disciplines. And you can be certain that any live class you attend is 100% worth your time.
Let us learn from some of the best thought leaders in the world together!
P.S. If you would like to read more articles by me, you can also follow me as per above or sign here for your free monthly newsletter for further articles on careers, leadership, personal and professional development.