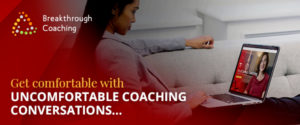 Are you looking for a way to create life-changing results for your clients quickly and consistently?
Then you need to get comfortable having uncomfortable conversations and asking difficult questions!
This month, former ICF President and multi best-selling author, Marcia Reynolds will host a complimentary masterclass called Keys To Breakthrough Coaching. I'd love you to be my guest.
In this live masterclass, Marcia will show you how to have a greater impact on your clients, their organizations, and the world. You'll discover how to turn the uncomfortable conversations and difficult questions 99% of coaches avoid into your standard mode of operation.
Get high-impact strategies you can implement in your very next coaching engagement!
Register for the Keys To Breakthrough Coaching Masterclass now.
If you're interested, I recommend that you sign up. Coach training sessions like these often reach full capacity quickly.
Feel free to share your thoughts with me about this session. Looking forward to hearing from you.