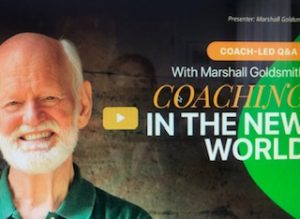 Marshall Goldsmith is considered Thinkers50's 'World's Most Influential Leadership Thinker' (2015 and 2011) along with being an award-winning coach and best-selling author. He is the author or editor of 35 books, which have sold over two million copies, been translated into 30 languages and become bestsellers in 12 countries.
He was a recent speaker at a value-packed WBECS full summit for global coaches. Marshall Goldsmith answered questions from coaches about his philosophy on life and coaching, his upcoming book, The Earned Life, and the current pandemic and its effect on the coaching profession.We benefitted from some wonderful personal and professional reflections from the world's leading coach.
He is just a few nuggets from the session
Mindfulness is very simple. Ask yourself one question. Am I being who I want to be right now?
Have a clear mission. My mission is helping successful leaders get even better.
If you want to be successful, follow people who know what they are doing. Try to be like your heroes because they represent your "real values."
Marshall asked the audience to thank their heroes – send them a note or call them up, tell them they are your hero and why.
Ask yourself two questions. Did I do what I thought was right, and did I do my best? If the answer is yes, I did what I thought was right and I did my best, that's all you can do.
We're not here on earth to prove we're smart or right. We're here to make a positive difference.
As I've gotten older, my level of aspiration is going down and down, but my impact up and up. Why? I quit worrying about what I'm not going to change.
Show a little humility and have a little fun. Try to make a positive difference but don't get so hung up.
The first person you need to forgive is you (self-forgiveness).
Everything you have was inherited from previous versions of you. Ask how can you earn it?
Marshall asked the audience to write a letter to the "future you." One year from today, what do you want to give to the future you?
Hindu philosophy – Never get fixated on results. When we get our ego attached to results we're headed for trouble.
Just let go. Accept what you can't change. Acceptance of what is – you don't have to like or agree with it.
Pragmatic optimism – face the reality that exists and ask what you can do with it.
Click on the link to register for other standout sessions – WBECS 2020 Full Summit
And most of all, in these unsettled times, do take care of yourself –  keep well and keep safe.