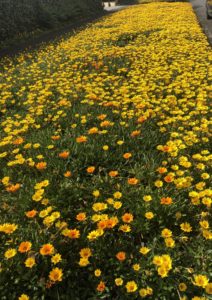 Winter lingered like an unwelcome visitor, but finally, Spring arrived – one little step after another.
Jasmine scented the air on crisp mornings in the lull between seasons; daffodils thrust dreary winter aside, lambs gambolled in Auckland's Cornwall Park and in the burbs,  pink cherry blossoms brightened the streets – on days when it wasn't raining!
I have some favourite streets I love lingering as I soak in the sights, sounds and smells of a  New Zealand spring.  It's a joy to watch the seasons change;  to witness the coming of longer days,  to feel once again some warmth – but that's because it's a hint of what I grew up with.
In Auckland, we're lucky enough to almost experience four distinct seasons, short of snowfall. When the seasons change, when leaves replace blossoms,  then we all sense that surely,  summer can't be that far away. And it all leads me down a familiar path – the parallel with our human journey with all its ups and downs.
I think few would argue that we only begin to truly appreciate and cherish the good times more as we emerge from bleaker and more challenging times in our lives.
In winter we tend to internalize, and then like Spring, we emerge into the promise of The New. We're not quite sure how it will all pan out, but oh how grateful we are for what's so freshly upon us.
Alexander Pope had wisely said, "Hope springs eternal."
Perhaps Spring engenders hope too.