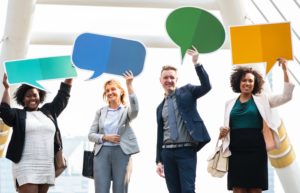 We all have strengths and weaknesses.
But how much do you fully OWN your strengths?
If you don't do this, there are likely to be good reasons here. These can include our earlier conditioning, fear of failure, and perhaps being in the grip of the imposter syndrome.
What I have come to notice is that there is a difference between just knowing your strengths and truly owning it.
 Perhaps you are still not convinced and are asking, "So – what does it matter, especially as we typically do roles that match our strengths. 
These are things we are good at, and they come easily. 
We can even attend to some of these tasks on automatic.
That extra juice
However, when we "own our strengths," we add depth and potency to who we are and what we do. 
It enriches those we contribute to, including team members, colleagues, other managers, customers, and clients.
We become more grounded in what we know to be true (our authenticity) and the impact our strengths have in these exchanges.   
It also creates a positive self-reinforcing loop.
Here is an example
A client shared that no matter how he felt inside, he always endeavored to portray a calm and enabling influence on his team. 
So recently, when he received feedback about his presence and calming influence as part of his leadership development,   a significant shift happened for him.
His confidence and self-belief strengthened in a way he had not expected.
 The benefits of this had a ripple effect on his team and other work colleagues.
Managerial encouragement
As a manager and leader – a gift you can give your people is to recognize and acknowledge your teammates for who they are, especially their particular strengths. 
It fulfills the core human need of being valued, recognized and appreciated for what we bring to the table.
Furthermore, sharing how these strengths and their role contributes to the vision and purpose of the company is not only energizing but also helps grow engagement.
You are also not robbing others of your gems.
Organizational parallel
Companies who own and pride themselves in what they stand for also give a clear message in the marketplace along with serving their clients well.
Final thoughts
Of course, we need to own our weaknesses as well but that is a topic in another blog!
And I do love serendipity.  Just as I finished writing this blog, Taika Waititi, a New Zealand filmmaker, actor, comedian, and an Oscar Nominee was being interviewed on TV about his new movie, Jojo Rabbitt. 
"Here in NZ, we don't fist pump enough, yeah!" (in the promo clip) and then "I am beginning to try and own that I am better at this job……"  Kia Ora, Taika.
P.S. If you would like to read more articles by me, you can also follow me as per above or sign here for your free monthly newsletter for further articles on careers, leadership, personal and professional development. 
P.S. Image from Pexels