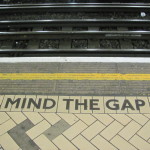 So many of us are busy running around doing a gazillion 'important' things but failing to give ourselves the most precious gift of time and perspective.
No one is arguing that the demands on us have increased hugely and that there are always more things than time itself.
Talking about her busy life of juggling work, family and friends and her own well-being, a client said, "I need to start making time to 'mind the gap' and getting off automatic."
She was recalling the "mind the gap" message in London's underground train station.
She chose to use it as a visual and auditory reminder to pause before taking action.
So what is the gap I am referring to here?
Unlike the gap of the London Tubes, here we are referring to the psychological and physical space that allows us to:
Pause
Think
Feel
Gather our senses
Become conscious of our breath
Get in touch with our spirit
Re-group
Come home to ourselves
And then respond
Some examples of the undesirable outcomes of not "minding the gap" can be:
Failing to recognize the other person's emotional state but ploughing on instead (empathy )
Going on automatic and responding from our conditioned responses
Not being able to see the wood for the trees
Working in the business, not on it and
Not having adequate recovery time to recuperate our energies – physical, emotional, mental and spiritual
Failing to question if there was a better way
When we stop minding the gaps is when we end up making poorer decisions, limiting our choices and taking actions we regret later.
In the work setting, clients – managers and business owners have used the following strategies for "minding the gap."
Taking a lunch break
Going for a walk around the block
Getting in the office early and having a quiet hour before everyone arrives
Using the first 30 minutes to orient to the day's priorities
Pausing /Thinking before answering
Taking five when a conversation gets heated
Consciously taking a back seat in a meeting
The practice of mindfulness
Using the drive between work and home to shift gears before seeing the family
Dealing with change and seeing transition times as 'minding the gap' before making any final decisions and any major changes.
Focus on breathing to re-connect with deeper self
Here's a reflective practice  exercise that may help.
Why not "mind the gap" now to reflect on the strategies that wok for you….I look forward to hearing.
Jasbindar is a leadership coach, facilitator and speaker who helps executives harness the best of themselves and their teams.
Image – Courtesy of London Underground