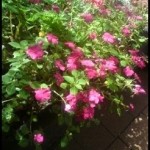 For a long time, my loved ones were telling me that I should consider finding myself a "better" place to live. One that was more reflective of me rather than the smallish place I was living in.  The thing was it worked because it was small – easy upkeep, convenient to all the places that mattered to me including a short drive to the CBD and a brief walk to my favourite, local café!   The café sustained me while I was writing my book.    But they were right in that it precluded doing a number of other simple, joyful things such as sitting around with friends on the patio with sun, colourful pot plants and being able to enjoy the outdoors in a restful way. They called it my working pad.
Well last month – the unexpected happen!
I stumbled upon what feels like my dream home now.  It literally ticked all the boxes much to my amazement.  Most of all I love the mature trees (courtesy of the neighbours), variegated shrubs, flowers and fruit trees – all of which lend themselves to a plethora of birds, bees and butterflies.  I feel I am part of an amazing ecosystem and very much share the space with them. There is a strong feeling of interdependence, support and nourishment. This place truly feels like a gift and a blessing. And now I get what my loved ones were on about all these years!
There have been some great lessons here for me. One is that we really need to pay attention when our own "attention" is being drawn to something that may not be quite in our radar at that time.  Whether in a leadership role or not, we can be inclined to brush these things off, shut the other person down or quickly form a judgment as to why it may not apply or be relevant to us or our business!  But in being open-minded and entertaining the possibility that there is perhaps a reality that is bigger than our current thinking we are then able to move outside of our comfort zone and take steps towards an even better future.  Our consciousness dictates our reality.
It is worth stepping back and examining our own thinking, especially our "givens" and any other fears that maybe lurking behind them.
Now I wish I had taken this step a bit sooner ….like only 5 or so years ago!